Cabernet Gift box
Perfect For Valentines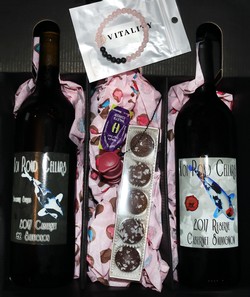 In Stock

Cabernet Gift box
In this gift box you will receive. 1-2017 Signature Cabernet Sauvignon and 1-2017 Reserve Cabernet Sauvignon.
You will receive 1 Haley's Corker.
You will also get a Rose Quartz bracelet. Rose Quartz is a healing, nurturing stone of love and compassion, carrying a tender, feminine energy. It is ideal for encouraging forgiveness, empathy, contentment, and fulfillment. Bracelets have Lava beads as well. Lava Beads are porous and can absorb the oil of your choice.
Last but not least Dark Salted Caramels- Jacobsen Salt Co. From Whimsy Chocolates. Large squares of our decadent caramel are dipped in dark chocolate and sprinkled with Jacobsen Sea Salt. Our caramel is velvety soft and will practically melt in your mouth!
All for only $99 plus free shipping.